Welcome to A1 Dental Studio...
A1 Dental Studio first opened in 2003 and we have been devoted to sculpting beautiful smiles ever since. We work in very close partnership with our clients to gain maximum customer satisfaction. Good communication with our clients is also an integral part of our philosophy. Our reputation is built upon constantly improving the quality of our service by upgrading our skills, technology and techniques. We utilise new precision procedures and use the finest materials available to create refined restorations by using the latest technology like Renishaw's inciseTM. We work closely with well known and respected clinicians including restorative specialists. We are also able to advise on a wide range of soltuions and provide written plans and quotations. A1 Dental Studio is a long standing, reputable and reliable company.

Veneers/Inlays

Zirconium crowns

Crowns

Bridges

Flexible Dentures

Accessories

Dentures

Chrome Dentures

Repairs and Relines

Occlusal work

Orthodontics
Derek Smith & The Lab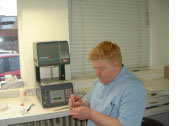 With over 20 years experience, Derek Smith can offer a unique opportunity to recreate the smile and facial structure that you want.
His background and expertise will ensure that you will get teeth that look natural and fit perfectly. His team ensures quick, efficient service while maintaining high standards
A1 Dental Studio is a professional company, that produces high standards and quality of work that is unsurpassed.